January 29, 1986

Michael J. Reale, Ph.D.
Director of Regulatory Affairs
GLYCO, Inc.
Post Office Box 5100
Norwalk, Connecticut 06856-5100


Dear Dr. Reale:

This letter is in response to your October 24, 1985, request for an interpretation regarding the Occupational Safety and Health Administration's (OSHA) Hazard Communication Standard as it pertains to mixtures. Please accept my apology for the delay in responding. The overwhelming number of letters and telephone calls regarding the Hazard Communication has caused unavoidable delays in responding to the public's concerns.

In the example given in your letter, chemicals C and D, formed by chemical reaction of A and B, would be treated as new chemical entities for the purposes of hazard determination. You would then be required to evaluate the hazards of chemicals C and D. In cases where reaction does not proceed to 10 percent completion, the resulting chemicals would be treated as a mixture of chemicals C, D, and unreacted A and B. A hazard determination must then be accomplished be testing the mixture as a whole, or by assuming that the mixture contains components C, D, A and B.

Again, we regret any inconvenience caused by this delay. If you have further questions on this matter, please feel free to contact OSHA's Office of Health Compliance Assistance at 200 Constitution Avenue, N. W., Room N-3606, Washington, D. C. 20210 or telephone (202) 523-8036.

Sincerely,

John B. Miles, Jr., Director
Directorate of Field Operations

Keep your mixtures well-stirred with stirrers from Safety Emporium.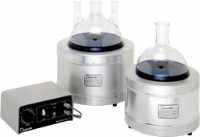 Heating stirring mantles are another laboratory accessory you can get from Safety Emporium.