March 4, 1986

The Honorable Dan Quayle
United States Senate
Washington, D.C. 20510


Dear Senator Quayle:

This is in response to your letter dated January 24 on behalf of your constituents, Messrs. Donald W. Dreitzler of Sterling Casting Corporation and L. W. Essex of Essex Castings, Inc., regarding the Occupational Safety and Health Administration's (OSHA) Hazard Communication Standard (HCS).

Promulgation of the HCS on November 25,1983, was the culmination of over 10 years of rulemaking activity by the Agency. The standard is based on the premise that employees have a right to know the identities and hazards of the substances to which they may be exposed in their place of employment. This knowledge will ultimately result in a reduction in the occurrence of illnesses and injuries resulting from such exposures.

Your constituent expressed concern about the classification of foundry products such as castings in relation to the HCS. In many situations, a casting would be considered an "article" under the HCS and would be exempt from the provisions of the standard. However, if the casting is going to another manufacturing facility where it will be used in such a way as to release a hazardous chemical, information will have to be provided to the manufacturing purchaser of the product in accordance with the standard. OSHA has never made a blanket interpretation that all foundry castings are covered by the standard. The HCS requires manufacturers of such products to make the determination as to whether the casting is exempt based upon its "normal conditions of use."

It is unfortunate that inaccurate information has been disseminated about the HCS. Many industry representatives participated in the development of this rule, and there was substantial industry support for its promulgation. The rule is performance-oriented, incorporating the flexible approaches industry has long encouraged in OSHA standards. A two-year phase-in period for the requirements was also established to allow all employers sufficient time to come into compliance. We believe that the rule is neither unworkable nor unreasonable. It is impossible, however, to anticipate all of the problems that may arise in the many diverse industries covered by this generic approach, but we are attempting to deal with such situations as they are brought to our attention. These resolutions can only be based on considerations of factual information regarding the problem, and must result in employees receiving the information to which they are entitled under the rule.

I hope this information will help to clarify the HCS and its requirements. If you have any further questions, please do not hesitate to contact us.

Sincerely,

John B. Miles, Jr., Director
Directorate of Field Operations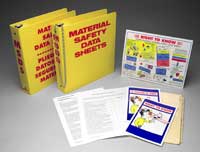 These handy MSDS binder training inserts and other OSHA compliance materials are available at Safety Emporium.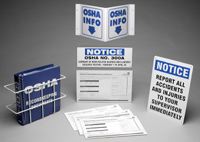 Workplaces with 11 or more employees have to comply with OSHA 300 work-related injury reporting requirements. Get your compliance materials at Safety Emporium.