MEMORANDUM FOR: ROY GIBBS, Industrial Hygienist , Hazard Communication Health Compliance Assistance
THROUGH: JOHN B. MILES, JR., Director, Director of Field Operations
FROM: JAMES W. LAKE, Regional Administrator Region X

SUBJECT: Request for Hazard Communication Interpretation

Based on a December 13, 1985, telephone conversation with Joseph Hopkins of your office, I am forwarding a request for an interpretation regarding lift trucks and the hazard communication standard.

The requester, Mr. Kevin C. Donaghue, has been notified that his questions have been referred to your office and that a response will be forthcoming. I would appreciate a copy of your response.

Occupational Safety and Health Administration 909 First Avenue Seattle, Washington 98174 December 13, 1985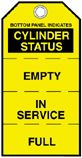 Get gas cylinder accessories such as tags, signs, and storage cabinets at Safety Emporium.