June 1, 1987

MEMORANDUM FOR: FRANK L. STRASHIEM, Regional Administrator<
FROM: LEO CAREY, DIRECTOR, Directorate of Field Operations

SUBJECT: Labeling of Lead Chromate Under the Hazard Communication Standard

Although Table I, page A-15 of CPL 2-2.38A CH-1, indicates that carcinogens listed in NTP need a carcinogen warning label, the table, as stated, is to be used as general guidance for assessing the MSDS and labeling information on carcinogens. The criteria for determining whether a carcinogen warning label is required is based on, as stated on page A-13 of CPL 2-2.38A CH-1, the existence of positive human evidence.

Presently, there are no studies which have indicated that lead chromate is a human carcinogen. Attached for your information is a memo prepared by Region II which provides additional support on this subject.

If you have any questions concerning this issue, please contact Gary Anderson, Acting Director, Office of Health Compliance Assistance on FTS 523-8036.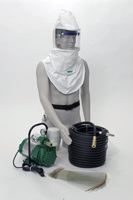 If you are involved in lead paint removal, consider a complete supplied air respirator system like this one from Safety Emporium.