August 17, 1988

Lawrence B. Maglin, CSM, CSSP LBM
Safety Consultants
90 Perkins Avenue South
Hamilton, Massachusetts 01982


Dear Mr. Maglin:

This is in reply to your letter concerning the hazardous waste exemption of the Hazard Communication Standard as applied to samples of the waste sent to a laboratory for analysis.

Since the laboratory analysis is part of the preparation for the disposal of the chemicals and the waste manifest accompanies the sample bottles to the laboratory, it would, therefore, still be considered hazardous waste. Such samples would be exempted from coverage under the Hazard Communication Standard, if the waste is defined as a hazardous waste by the Solid Waste Disposal Act, as amended by the Resource Conservation and Recovery Act of 1976, when subject to regulations issued under that Act by the Environmental Protection Agency.

Please contact this office if we can be of further assistance.

Sincerely,

Thomas J. Shepich, Director
Directorate of Compliance Programs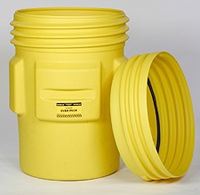 Contain leaky drums with overpack containers from Safety Emporium.