Under the HCS, the manufacturer, importer, or distributor is required to label each container of hazardous chemicals. Therefore, each container of hazardous chemicals received should have existing labels that comply with the requirements of the rule, and your clients would not be required to relabel the containers, shelves or doors. If the hazardous chemicals are transferred into unmarked containers, these containers must be labeled with the required information, unless the container into which the chemical is transferred is intended for the immediate use of the employee who performed the transfer. As stated in paragraph (f)(7) of the rule, "The employer is not required to label portable containers into which hazardous chemicals are transferred from labeled containers, and which are intended only for the immediate use of the employee who performs the transfer."

Section 29 CFR 1910.1200(f)(6) states the following: "The employer may use signs, placards, process sheets, batch tickets, operating procedures, or such written materials in lieu of affixing labels to individual stationary process containers,...." As stated in your letter, your clients store various types of chemicals in containers on shelves or in cabinets and drawers; however, these containers are not considered stationary (not capable of being moved) process containers. Therefore, each container must convey the information outlined in section (f)(5).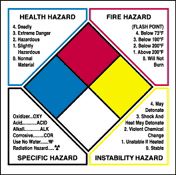 Communicate workplace hazards with handy labels from Safety Emporium.