Thank you for your March 14, 2001 letter to the Occupational Safety and Health Administration's (OSHA's) Directorate of Compliance Programs (DCP). Please be aware that this response may not be applicable to any question not delineated within your original correspondence. You had a specific question regarding the storage of flammable and corrosive substances.
Question: Can I store flammable and corrosive chemicals in the same storage cabinet?
Reply: Yes, assuming that the chemicals are being stored in accordance with the manufacturers' requirements, in approved containers, and inside an approved storage cabinet. You should refer to the chemical's Material Safety Data Sheet (MSDS) for specific storage requirements.
Thank you for your interest in occupational safety and health. We hope you find this information helpful. OSHA requirements are set by statute, standards and regulations. Our interpretation letters explain these requirements and how they apply to particular circumstances, but they cannot create additional employer obligations. This letter constitutes OSHA's interpretation of the requirements discussed. Note that our enforcement guidance may be affected by changes to OSHA rules. Also, from time to time we update our guidance in response to new information. To keep appraised of such developments, you can consult OSHA's website at http://www.osha.gov. If you have any further questions, please feel free to contact the Office of General Industry Compliance Assistance at (202) 693-1850.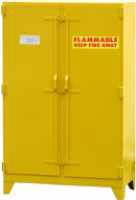 Wilray flammable storage cabinets are available in a variety of sizes and colors at Safety Emporium.