The Canadian Centre for Occupational Health & Safety has noted that some references have indicated:

The flushing or rinsing time can be modified if the identity and properties of the chemical are known. For example:
a minimum 5-minute flushing time is recommended for mildly irritating chemicals,
at least 20 minutes for moderate-to-severe irritants,
20 minutes for non-penetrating corrosives, and
at least 60 minutes for penetrating corrosives.
Non-penetrating corrosives are chemicals which react with human tissue to form a protective layer which limits the extent of damage. Most acids are non-penetrating corrosives. Penetrating corrosives, such as most alkalis, hydrofluoric acid and phenol, enter the skin or eyes deeply. Penetrating corrosives require longer water flushing (a minimum of 60 minutes) than non-penetrating corrosives (a minimum of 20 minutes).
Note that while the CCOHS advice is a sensible risk-based approach, we would not recommend that anyone delay treatment of an hydrofluoric acid exposure for 60 minutes! As should be readily apparent by now, the flushing period that gives the best clinical outcome for the victim is going to depend on the nature of the chemical, its concentration, the availability of medical treatment, the available water temperature, the condition of the victim and many other factors. The bottom line is that "15 minutes" is a rule of thumb (or best guess), not an ironclad rule. The actual time necessary in a given situation may be shorter or longer.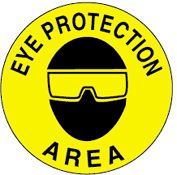 Eye protection is just one of the many floor markers at Safety Emporium.