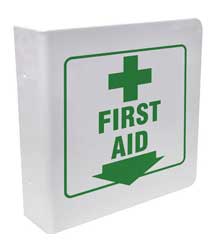 We have all kinds of safety wall signs at Safety Emporium.
Definition
Alopecia is the loss of hair.
There are many possible causes for alopecia, including natural aging, hormonal imbalance, autoimmune disorders, exposure to chemotherapeutic agents used in cancer treatment, as well as occupational exposure to certain other chemicals.
Additional Info
Proving a connection between shedding or hair or hair thinning and occupational exposure to certain chemicals is a difficult task at best (see Further Reading below for a case report and rebuttal). Kenerva's Occupational Dermatology has a chapter titled Chemically Induced Hair Loss/Alopecia (pp 1035-1042) that discusses hair loss in detail including types of hair loss (e.g., anagen, medications precipitating telogen), chemicals causing hair loss (e.g., antimitotic agents, phenyl glycidyl ether), medications causing hair loss of unknown type (e.g., antithyroid drugs), medications possibly associated with hair loss, as well as chemically induced cosmetic alopecia, and typical scenarios in alleged occupational hair loss.
Books Available
NOTE: We may collect a share of sales or other compensation from the links in the following list:
SDS Relevance
Alopecia will generally occur on a Safety Data Sheet in section Section 11 (toxicological information) as a symptom, effect, or risk of exposure to the material.
Acute or chronic exposure to some chemicals may result in the temporary or permanent loss of hair. For example, a symptom of thallium (a heavy metal) poisoning is loss of hair. Hair loss is also a symptom of excessive radiation exposure and can also result from the use of chemotherapy (anticancer) drugs.
Of course, alopecia also has many other causes, including heredity, normal aging, and auto-immune disorders. See the links below for further information.
Further Reading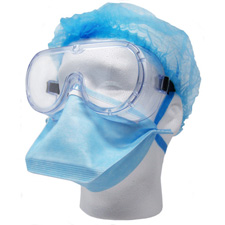 Get your US-manufactured NIOSH-approved N95 surgical respirators and more from Safety Emporium.
See also: Heavy metal.
Additional definitions from Google and OneLook.
---
Entry last updated: Sunday, February 20, 2022. This page is copyright 2000-2023 by ILPI. Unauthorized duplication or posting on other web sites is expressly prohibited. Send suggestions, comments, and new entry desires (include the URL if applicable) to us by email.
Disclaimer: The information contained herein is believed to be true and accurate, however ILPI makes no guarantees concerning the veracity of any statement. Use of any information on this page is at the reader's own risk. ILPI strongly encourages the reader to consult the appropriate local, state and federal agencies concerning the matters discussed herein.