May 27, 2004

Mr. Robert Perkins
Technical Advisor
3E Company
1905 Aston Ave.
Carlsbad, CA 92008

Dear Mr. Perkins:

Thank you for your January 2, 2004 letter to the Occupational Safety and Health Administration (OSHA) requesting an interpretation regarding OSHA's Hazard Communication Standard (HCS) 29 CFR 1910.1200. Please be aware that this response may not be applicable to any statement or question not delineated within your original correspondence. You had specific questions pertaining to material safety data sheets (MSDSs). Your paraphrased question and our reply are stated below.

Question: How long must a manufacturer, who is no longer in business or who has discontinued a product line, be required to provide material safety data sheets and product information for hazardous chemicals no longer manufactured?

Reply: Paragraph 1910.1200(g)(1) requires manufacturers, importers, and distributors of hazardous chemicals to provide MSDSs to downstream users with the initial shipment, the first shipment after updating the MSDS, and upon request. There is no requirement, under the HCS, however, for manufacturers to provide this information after the company goes out of business or ceases to manufacture a particular chemical. Similarly, OSHA standards do not require a chemical manufacturer to make a data sheet available to persons "in possession" of the product after they cease to do business or when they discontinue manufacturing the product.

As you may know, the State of California administers its own occupational safety and health program under provisions of the Occupational Safety and Health Act of 1970 (the Act), with approval and monitoring by Federal OSHA. The Act requires states that administer their own OSH plans to promulgate regulations which are, "at least as effective" as the federal regulations, although they may be more stringent. To get California's position on this issue, you may contact:
John Rea, Acting Director
California Department of Industrial Relations
455 Golden Gate Avenue-10th Floor
San Francisco, California 94102
Phone: (415) 703-5050
Fax: (415) 703-5059
Thank you for your interest in occupational safety and health. We hope you find this information helpful. OSHA requirements are set by statute, standards, and regulations. Our interpretation letters explain these requirements and how they apply to particular circumstances, but they cannot create additional employer obligations. From time to time we update our guidance in response to new information. To keep apprised of such developments, you can consult OSHA's website at http://www.osha.gov. If you have any further questions, please feel free to contact the Office of Health Enforcement at (202) 693-2190.

Sincerely,

Richard E. Fairfax, Director
Directorate of Enforcement Programs

Your MSDS collection can always be up to date with this 400,000+ MSDS database from Safety Emporium.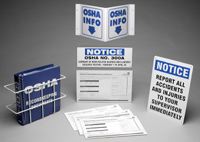 Workplaces with 11 or more employees have to comply with OSHA 300 work-related injury reporting requirements. Get your compliance materials at Safety Emporium.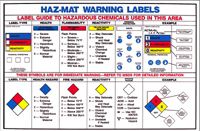 This handy poster explains the common hazardous chemical labeling systems. Get yours at Safety Emporium.