April 14, 2005

Ms. Beverly Cohen
Special Counsel
Hinman Straub Attorneys at Law
121 State Street
Albany, NY 12207-1693

Dear Ms. Cohen:

This is in response to your February 25, 2005, correspondence to the Occupational Safety and Health Administration (OSHA). Your letter was transferred to our Directorate of Enforcement Programs (DEP) for a response. This letter constitutes OSHA's interpretation of only the requirements discussed and may not be applicable to any questions not delineated within your original correspondence. Your letter requested clarification regarding OSHA's Hazard Communication Standard (HCS), 29 CFR 1910.1200. You specifically asked about requirements for maintaining material safety data sheets (MSDSs) for consumer art products and office cleaning products.

You have referenced two different types of chemical products and asked questions related to these materials. In order to clearly answer your questions, the scenarios, and questions you presented will be paraphrased below, followed by OSHA's answers.

Question 1: The employees of my client may create visual aids and presentation displays where they would use commercial art chemical products such as thinners, adhesives, and paints. Could you please clarify whether or not the use of consumer art products by my client's employees would meet the consumer products exemption under 29 CFR 1910.1200(b)(6)(ix)?
Answer: The consumer product exemption of the HCS applies to the use of those products only if the employer can demonstrate they are used in the same manner (e.g., with the same frequency and duration of use) as a normal consumer would utilize them. In the scenario you provided, the employees of your client are performing operations related to their normal work requirements. During the execution of these duties they may be utilizing art chemicals such as paints, thinners, and adhesives. If the employees are routinely exposed to these hazardous chemicals, then they would be required to be afforded the chemical hazard information available through MSDS and hazard communication training. It is the responsibility of the employer to determine employee exposure and ascertain if the frequency of use/exposure is indeed not more than that which would be experienced by a normal consumer.
Question 2: Additionally, the offices of my client purchase products such as Windex and Office Cleaner so that their employees may clean their work stations. Would the office cleaning products used by my client's employees come under the consumer products exemption of the HCS?
Answer: You have indicated that these products are provided by your client for their employees to use for the occasional cleaning of work stations and not in situations related to a required work assignment. If your client's employees utilize the office cleaning products you mention (Windex and Office Cleaner) with the frequency and duration as that of a normal consumer, then the use of those cleaning chemicals would fall under the HCS exemption for consumer products, 29 CFR 1910.1200(b)(6)(ix).

You included different types of chemical products in your inquiry. The products in question are being used for a variety of purposes and in a variety of quantities. A consumer product that is used in a workplace in such a way that the duration and frequency of use are the same as that of a consumer is not required to be included in an employer's hazard communication program. Again, it is your client's responsibility to make this determination for his workplace by assessing the exposure potential of the consumer products he may utilize and ensuring that the frequency and duration of use of these products, by his employees, are not greater than that of normal consumer use.
Thank you for your interest in occupational safety and health. We hope you find this information helpful. OSHA requirements are set by statute, standards, and regulations. Our interpretation letters explain these requirements and how they apply to particular circumstances, but they cannot create additional employer obligations. This letter constitutes OSHA's interpretation of the requirements discussed. For further information on this subject you may go to OSHA's web site at http://www.osha.gov. If you have any further questions, please feel free to contact the Office of Health Enforcement at (202) 693-2190.

Sincerely,

Jonathan L. Snare
Acting Assistant Secretary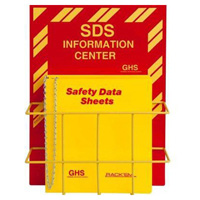 Ensure that your MSDS collection is "readily accessible" with these handy compliance centers from Safety Emporium.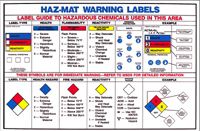 This handy poster explains the common hazardous chemical labeling systems. Get yours at Safety Emporium.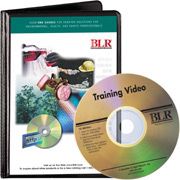 Hazardous materials spill cleanup training DVD's and other safety training materials are available at Safety Emporium.