August 1, 1984

Robert A. Wiesboeck, Manager
Atlanta Technical Center
USS, Agri-Chemicals,
Division of United States Steel Corporation
685 Dekalb Industrial Way
Decatur, Georgia 30033


Dear Mr. Wiesboeck:

This is in response to your inquiry dated June 22, concerning the completion of Material Safety Data Sheets (MSDS), under the Occupational Safety and Health Administration's (OSHA) Hazard Communication standard (29 CFR 1910.1200) for products that are composed of a mixture of non-interacting chemicals.

For such products, you propose that component chemical MSDS be attached to a cover sheet identifying the mixture product and listing all constituents.

This approach is acceptable as long as the hazards associated with the mixture are not different from that of its components.

Please contact us if further assistance is needed.

Sincerely,

John B. Miles, Jr., Director
Directorate of Field Operations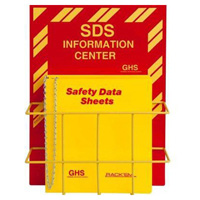 Ensure that your MSDS collection is "readily accessible" with these handy compliance centers from Safety Emporium.