MEMORANDUM FOR: REGIONAL ADMINISTRATOR
THROUGH: DANIEL MICK, COUNSEL FOR REGIONAL TRIAL LITIGATION; LEO CAREY, DIRECTOR FIELD PROGRAMS
FROM: THOMAS J. SHEPICH, DIRECTOR, DIRECTORATE OF COMPLIANCE PROGRAMS

SUBJECT: Coverage of Wood Dust Under The Hazard Communication Standard (HCS)

On September 9, 1986, a memo concerning the coverage of wood dust under the HCS was sent to you. The memo established the agency's position concerning citations for wood dust. Briefly, the memo stated that citations for wood dust under the HCS would not be issued because the standard and preamble could not support such citations.

The preamble to the expanded rule, page 31863, published on August 24 states that OSHA never intended to exclude wood dust from the standard's coverage under wood and wood products. In addition, the preamble states, "wood dust is a recognized health hazard, with exposure limits recommended by the American Conference of Governmental Industrial Hygienists (ACGIH) to control employee exposure to the substance." Under the provisions of the HCS, this means that wood dust is to be considered a hazardous chemical (paragraph (d)(3)(ii)), and therefore subject to the requirements of the rule including material safety data sheets and training.

The agency believes that the language used in the preamble to the expanded rule satisfies the need for public notice, and thereby supports the coverage of wood dust. Effective immediately, wood is covered and appropriate enforcement actions shall proceed. If you have any questions or need assistance in this matter contact Roy Gibbs or Steve Simon at (FTS) 523-8036.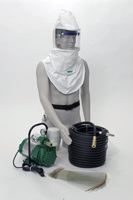 If you work around dust, consider a complete supplied air respirator system like this one from Safety Emporium.