MEMORANDUM FOR: MICHAEL G. CONNORS, REGIONAL ADMINISTRATOR
THROUGH: LEO CAREY, DIRECTOR, DIRECTORATE OF FIELD PROGRAMS
FROM: THOMAS J. SHEPICH, DIRECTOR, DIRECTORATE OF COMPLIANCE PROGRAMS

SUBJECT: Overwarning on Hazard Labels

This is in response to your memorandum of May 18 on the above subject. Specifically, you wish to know whether it is acceptable under the Hazard Communication Standard (HCS) for a company to use the same comprehensive list of health hazard target organs on the warning labels for an entire line of products.

Acceptability in terms of compliance with the HCS will depend upon whether, in fact, each product possesses all of the listed hazards. Any target organ hazard which is not demonstrated by at least one valid positive study for the chemical which is so labeled is not an appropriate hazard warning.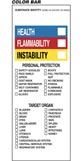 Safety Emporium has all kinds of labels for assisting with your OSHA compliance needs.