Petrochem Services, Inc. is an emergency response contractor and small treatment and storage facility for hazardous waste currently operating under a part A permit from the U.S. Environmental Protection Agency. We are currently applying for our part B. One of the proposals under our part B is to accept waste or used oils (lubricating, motor, etc.), hazardous waste fuels, and waste or used solvents and to blend them into fuel oils. These fuel oils could fall into one of three categories;
Hazard waste fuels which could only be accepted by facilities permitted by EPA to burn hazardous wastes,

Off-spec fuel oils which would be acceptable boiler fuel, etc. for industry under EPA regulations, or

Spec fuel oils which would be acceptable for commercial or residential use.
The problem we are facing is how to approach the problem of preparing a material safety data sheet, and even when one is necessary. Obviously, hazardous waste fuels would be exempt under 29 CFR 1200.(a) (f) (i) since it would be a RCRA regulated waste. And, if EPA does eventually classify all used oils as hazardous waste (they are currently unregulated) none of the spec or off-spec fuels would be usable in industry or private facilities, so they would also fall under RCRA. The question is, if we blend materials which are sold and transported to us as hazardous wastes (i.e. Xylene, Toulene, and other low flash solvents) into non-regulated used oils and create a usable fuel oil, how should a material safety data sheet be prepared? Is one necessary? Should the status of the component parts, as wastes, be ignored? Since the blend will be to meet fuel characteristic, low flash solvents will be used interchangeably based on the availability of waste streams and blended based on characteristics of the used oil's base. Can we classify components generically and with wide ranges of percentages as ingredients?

I think you can appreciate the problem we are having with this. We will not be producing a product that will be highly consistent and we will be producing a product which, for all practical purposes, is nothing more than a destruction process for hazardous wastes. Furthermore, as a RCRA facility, our own employees aren't really covered by the Hazard Communication Standard, although we do inform them on the hazards of each individual waste stream.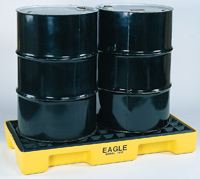 These pallets are just one of many spill prevention products available at Safety Emporium.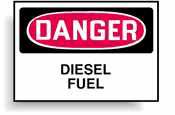 Get warning signs, DOT placards, and DOT labels from Safety Emporium.