I just received a copy of your memo dated June 3, 1986, to the Regional Administrators on labeling requirements for the Hazard Communication Standard. In your memo you make reference to labeling for target organ effects in addition to the HMIS identification system.

Our company manufactures aerosol products for many marketers who sell these cans to manufacturers. The cans are labeled with many warnings and the 2 1/2 inches by 6 inch panel used for directions, warnings and other label copy is filled now.

Please advise if there is a minimum size that requires the complete OSHA labeling. These cans are less than 1/2 pints and contain many materials found in the household like anti-static agents, silicones, oils, glass cleaners etc., but we sold to industry.

I also note this change takes effect on August 23, 1986. In some cases over 50,000 to 75,000 cans are out in distribution which may be there for over a year without this new labeling.

I would appreciate an early response. Thank you for your help.

Very truly yours,

Lloyd T. Flanner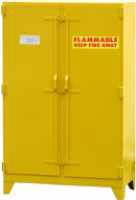 Store your flammable aerosols in these flammable cabinets from Safety Emporium.