MEMORANDUM FOR:

BRUCE HILLENBRAND, DIRECTOR, Directorate of Federal-State Operations
FROM: THOMAS J. SHEPICH, DIRECTOR, Directorate of Compliance Programs

SUBJECT: Clarification of Interpretation on Material Safety Data Sheet Requirements Under the Hazard Communication Standard

Ms. Barbara Bryant, of your staff, has brought to our attention a concern that was raised during the February meeting of the Occupational Safety and Health State Plan Association held in Chapel Hill, North Carolina. The concern has to do with a past interpretation (copy attached) made by this Directorate regarding leaving off a section on a material safety data sheet (MSDS) when the pertaining information does not exist. Some OSHA personnel have mistakenly interpreted this policy to apply only to computer generated MSDS.

It was and still is our policy that the interpretation applies to any type of MSDS. Since the standard is performance-oriented and no MSDS format is specified, employers are free to develop MSDSs that are designed for a specific chemical. For example, if an employer develops a MSDS for a chemical which is not a carcinogen, a space addressing carcinogenicity does not have to be provided on the form.

If you have any questions, please feel free to contact Steve Simon on 523-8036.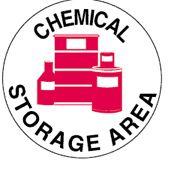 Encourage proper work habits with non-slip floor markers, signs, and labels from Safety Emporium.