Definition
The terms and abbreviations listed here are confusing, arcane, ambiguous and otherwise useless. We get really annoyed when folks write "N/K" on an Safety Data Sheet (SDS) instead of simply stating "Not Known".
There is no good reason to abbreviate terms on a SDS Safety Data Sheet!
SDS Relevance
Here are some of the more useless abbreviations we've seen on SDS's. Beware, the folks that use these may have meant something else...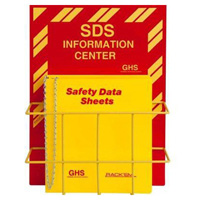 Your employees can stay informed and comply with OSHA regulations with SDS information stations and compliance products from Safety Emporium.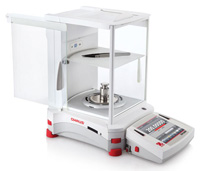 Laboratory operations are a breeze with Ohaus analytical balances from Safety Emporium.
C

- Ceiling Value. For example, Toluene-2, 4-diisocyanate (TDI) has a PEL of (C)0.02 ppm.

Code

- On some SDS's that come out of the Department of Defense (DoD) HMIRS database, we have seen codes associated with almost every field that have are typically "M" or "T". These do not appear to be HMIRS Health Characteristic Codes. We hear directly (third-hand) that in this post-9/11 world the DoD does not wish us to know what the codes represent, even though they have released the codes for each entry! If anyone knows more about these, let us know.

EST

- Eastern Standard Time Estimated (could also be "Established" when written "Not Est").

MST

- Mountain Standard Time Mist.

N/A

(sometimes "NA") - Not Applicable, Not Available.

N/Ap

(sometimes "NA") - Not Applicable.

N/Av

(sometimes "NA") - Not Available.

ND

- North Dakota None Determined or Not Determined.

NE

- Nebraska North-East None Established.

NEGL

- Negligee Negligent Negligible.

NF

- None Found.

N/K

(sometimes "NK") - Not Known.

N/P

(sometimes "NP") - Not Provided.

REC

- (sometimes "R") Recommended. Do not confuse with RTECS.

S/A

(sometimes "SA") Simple Asphyxiant

SKN

- Skin.

SUP DAT

- "whaSup (with) 'Dat?" Possibly "Supply Missing Data" or "Supplementary Data". Apparently a database artifact?

TS

- Trade Secret.

UNK

- "Unknown".

UNR

- "Unreported".

WATER -Z26020

(or other Z-type numbers), found under the solubility description. This is an error on certain long-outdated Sigma-Aldrich SDS's; looks like their computer forgot to put in the correct value.
Wilson RISK Scale - as described in a separate entry, this is a proprietary and obsolete hazard rating system, so it's pointless to use it. Your opinion may differ, of course. But you're wrong.
If you find others, let us know.
Further Reading
See also: The Index Page of this site.
---
Entry last updated: Tuesday, February 8, 2022. This page is copyright 2000-2023 by ILPI. Unauthorized duplication or posting on other web sites is expressly prohibited. Send suggestions, comments, and new entry desires (include the URL if applicable) to us by email.
Disclaimer: The information contained herein is believed to be true and accurate, however ILPI makes no guarantees concerning the veracity of any statement. Use of any information on this page is at the reader's own risk. ILPI strongly encourages the reader to consult the appropriate local, state and federal agencies concerning the matters discussed herein.