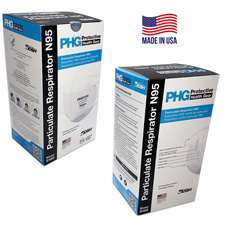 Get your PPE such as made in USA NIOSH-approved N95 masks from Safety Emporium.
Definition
Action levels are used by OSHA and NIOSH to express a health or physical hazard. They indicate the level of a harmful or toxic substance/activity which requires medical surveillance, increased industrial hygiene monitoring, or biological monitoring.
Additional Info
Action levels are generally set at one half of the permissible exposure limit (PEL), but the actual level may vary from standard to standard. The intent is to identify a level at which the vast majority of randomly sampled exposures will be below the PEL. One can not simply apply the 1/2 ratio to each substance because chemicals differ, not all dose/response curves are linear, and not all measurements of exposure have the same accuracy or precision (and can be process-dependent, in fact). Therefore, each one is presumably calculated on the best epidemiological and other known data. For example, the PEL for formaldehyde is 0.75 ppm while its action level is 0.5 ppm (higher than one-half the PEL) despite it being a very strong sensitizer.
For a bit of background on the history of the 1/2 ratio and the statistical considerations that are involved in coming up with an action level, see this very dated (1975) NIOSH Technical Information sheet, HEW Publication No (NIOSH)76-131 titled Exposure Measurement Action Level and Occupational Environmental Variability.
SDS Relevance
Action levels are not defined for all compounds. There are OSHA standards for a variety of chemical substances such as asbestos, benzene and lead. There are even OSHA action levels for noise exposure!
If an action level exists for the material you are working with, that will usually be found in Section 8 (exposure controls/personal protection) of the Safety Data Sheet. Be sure to read the entire sheet to understand how to protect yourself and others.
If you are dealing with a substance which has a PEL and you exceed 50% of the PEL or the action limit, you need to take appropriate action to monitor the levels and/or employee health on a regular basis. Consult your industrial hygienist, safety officer or local OSHA compliance (not enforcement) office for assistance (see below for contact information).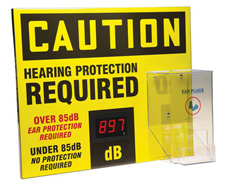 Encourage use of proper hearing protection with electronic decibel meter signs from Safety Emporium.
Further Reading
See also: EPCRA, heavy metal, PEL, PPE, SARA, ventilation
Additional definitions from Google and OneLook.
---
Entry last updated: Tuesday, February 15, 2022. This page is copyright 2000-2023 by ILPI. Unauthorized duplication or posting on other web sites is expressly prohibited. Send suggestions, comments, and new entry desires (include the URL if applicable) to us by email.
Disclaimer: The information contained herein is believed to be true and accurate, however ILPI makes no guarantees concerning the veracity of any statement. Use of any information on this page is at the reader's own risk. ILPI strongly encourages the reader to consult the appropriate local, state and federal agencies concerning the matters discussed herein.