Definition
The U.S. Comprehensive Environmental Response, Compensation & Liability Act of 1980 (CERCLA) is better known as the "SuperFund Act". This law was enacted because of the presence of toxic waste dumps such as the one at Love Canal, New York. CERCLA provided liability for those responsible for illegal waste dumping as well as a trust fund to clean up sites when the responsible parties could not be found or determined.
After six years, this act was amended by the Superfund Amendments and Reauthorization Act (SARA).
Additional Info
CERCLA was originally funded by a tax on the chemical and petroleum industries and provided broad Federal authority to respond directly to releases or threatened releases of hazardous substances that may endanger public health or the environment.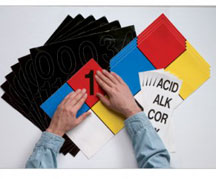 NFPA signs and kits are available at Safety Emporium.
In 2002, the Bush administration decided to shift this tax burden from industry to the taxpayers. As a result, the fund, which once had a balance of six billion US dollars, was depleted by 2004, slowing the cleanup at the remaining Superfund sites, and leaving taxpayers to foot the bill for subsequent cleanups.
On December 30, 2009, the US EPA issued an Advanced Notice of Proposed Rulemaking concerning Superfund financial responsibility which would require that classes of facilities maintain financial responsibility consistent with the degree and duration of risk associated with the production, transportation, treatment, storage or disposal of hazardous substances. While not restoring the old funding mechanism, this proposed rule would reduce the likelihood of a major hazardous materials operator going bankrupt and leaving taxpayers to pay for the cleanup. Like all good ideas, this one wilted under the pressure of special interests and the US taxpayer continues to fund the system.
The Trump administration proposed to slash the Superfund budget in its 2018 appropriation, meaning that cleanups that had been languishing over a decade would continue to pose public health threats to the tens of millions of Americans who live within a few miles of Supefund-listed sites. They tried again in 2019, and the Trump 2020 proposed budget for EPA asked for a 31% cut in funding. While Congress did not go along with these requests, they did not provide increased funding. In the meantime, the backlog of cleanups has reached a 15 year high despite Trump falsely stating "We have done tremendous work on SuperFunds", deceptively claiming credit for work done under the previous administration. In 2021, bipartisan legislation pushed by the Biden administration provided 3.5 billion dollars of funding to help clear up the Superfund backlog, with one billion of that committed immediately.
Under CERCLA, two responses to closed, abandoned or illegal hazardous waste sites are:
Short-term removals where actions may be taken to address releases or threatened releases requiring prompt response.
Long-term remedial response actions that permanently and significantly reduce the dangers associated with releases or threats of releases of hazardous substances that are serious, but not immediately life threatening. These actions can be conducted only at sites listed on the U.S. EPA's National Priorities List (NPL).
CERCLA also requires the ATSDR and the EPA to prepare a list, in order of priority, of substances that are most commonly found at facilities on the National Priorities List (NPL) and which are determined to pose the most significant potential threat to human health due to their known or suspected toxicity and potential for human exposure at these NPL sites. This CERCLA priority list is revised and published on a 2-year basis, with a yearly informal review and revision. Each substance on the CERCLA Priority List of Hazardous Substances is a candidate to become the subject of a toxicological profile prepared by ATSDR.
The CERCLA priority list is not a list of "most toxic" substances, but rather a prioritization of substances based on a combination of their frequency, toxicity, and potential for human exposure at NPL sites.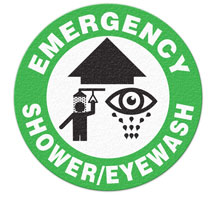 Ensure a safe workplace with antislip floor marking signs from Safety Emporium.
Books Available
NOTE: We may collect a share of sales or other compensation from the links in the following list:
SDS Relevance
The Safety Data Sheets for chemicals mentioned in CERCLA or SARA should have that information listed in Section 15 (regulatory information) of the SDS. However, these sections are technically non-mandatory in the US.
SuperFund sites, hazardous waste generation facilities, and local authorities include SDSs in their data evaluation and planning process. Any release of one or more of the roughly 800 CERCLA or 360 Emergency Planning and Community Right-to-Know Act (EPCRA) hazardous substances that equals or exceeds a reportable quantity (RQ) (see CERCLA and EPCRA Continuous Release Reporting) must be reported to the EPA National Response Center (NRC).
RQs are adjusted to one of five levels: 1, 10, 100, 1,000, or 5,000 pounds. EPA bases adjustments to the RQs on the intrinsic characteristics of each hazardous substance, such as the aquatic toxicity, acute and chronic toxicity, ignitability, reactivity, and potential carcinogenicity. An RQ value is established for each of these characteristics of a hazardous substance, with the most stringent RQ value (i.e., the lowest quantity) becoming the final RQ or reporting trigger for that hazardous substance.
Further Reading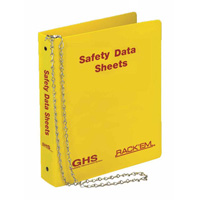 Get your SDS binders, centers and more from Safety Emporium.
Additional definitions from Google and OneLook.
---
Entry last updated: Sunday, July 3, 2022. This page is copyright 2000-2023 by ILPI. Unauthorized duplication or posting on other web sites is expressly prohibited. Send suggestions, comments, and new entry desires (include the URL if applicable) to us by email.
Disclaimer: The information contained herein is believed to be true and accurate, however ILPI makes no guarantees concerning the veracity of any statement. Use of any information on this page is at the reader's own risk. ILPI strongly encourages the reader to consult the appropriate local, state and federal agencies concerning the matters discussed herein.