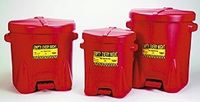 Safety Emporium carries oily waste and other safety cans that comply with OSHA regulations.
On December 30, 2009, the US EPA issued an Advanced Notice of Proposed Rulemaking concerning Superfund financial responsibility which would require that classes of facilities maintain financial responsibility consistent with the degree and duration of risk associated with the production, transportation, treatment, storage or disposal of hazardous substances. While not restoring the old funding mechanism, this proposed rule would reduce the likelihood of a major hazardous materials operator going bankrupt and leaving taxpayers to pay for the cleanup. We'll post further updates on the rulemaking process as it evolves.

Under CERCLA, two responses to closed, abandoned or illegal hazardous waste sites are:
Short-term removals where actions may be taken to address releases or threatened releases requiring prompt response.

Long-term remedial response actions that permanently and significantly reduce the dangers associated with releases or threats of releases of hazardous substances that are serious, but not immediately life threatening. These actions can be conducted only at sites listed on the U.S. EPA's National Priorities List (NPL).
CERCLA also requires the ATSDR and the EPA to prepare a list, in order of priority, of substances that are most commonly found at facilities on the National Priorities List (NPL) and which are determined to pose the most significant potential threat to human health due to their known or suspected toxicity and potential for human exposure at these NPL sites. This CERCLA priority list is revised and published on a 2-year basis, with a yearly informal review and revision. Each substance on the CERCLA Priority List of Hazardous Substances is a candidate to become the subject of a toxicological profile prepared by ATSDR.
The CERCLA priority list is not a list of "most toxic" substances, but rather a prioritization of substances based on a combination of their frequency, toxicity, and potential for human exposure at NPL sites.