Uncomplicated hypertension generally has no symptoms, so it is usually diagnosed through regular medical check-ups. Elevated blood pressure over several successive visits yields a diagnosis of hypertension or prehypertension. Prehypertension should be taken seriously as it can often progress to hypertension if the risk factors are not controlled.

To prevent or reduce (pre)hypertension, doctors generally recommend an improved diet, regular exercise, and, if applicable, losing weight or quitting smoking. Diets rich in fruits, vegetables, fat-free dairy foods, and low in fat and sodium tend to lower blood pressure. Limiting consumption of alcohol can also help lower blood pressure, however moderate alcohol use has certain cardiovascular (heart and circulatory system) benefits.

When these lifestyle changes are not sufficient to control hypertension, prescription medication is usually required. There are many different classes of antihypertensive medications, each working by a different mechanism. For example, diuretics such as hydrochlorothiazide are a cheap and effective drug for many people. While diuretics can help lower blood pressure by removing salt and extra fluid from the body, the actual mechanism of how they reduce blood pressure is not fully understood.

Other antihypertensives work by slowing the heartbeat down or relaxing and widening the blood vessels. Medications that work in this way include: beta blockers, alpha blockers, ACE inhibitors, ARBS, calcium channel blockers, alpha-beta blockers, nervous system inhibitors, and vasodilators. In some cases, combinations of two or more antihypertensives may be required to bring your blood pressure under control.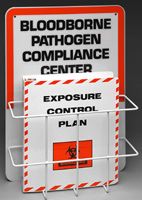 Safety Emporium is your source for bloodborne pathogen compliance items.