Get XtremeSorb spill materials here!
May 12, 2011
Ms. Carolyne R. Hathaway
Latham & Watkins LLP.
555 Eleventh Street, N.W., Suite 1000
Washington, DC 20004-1304
Dear Ms. Hathaway:
Thank you for your November 1, 2010, letter to the Occupational Safety and Health Administration's (OSHA) Directorate of Enforcement Programs with questions regarding potential ammonia vapor exposure to truck drivers who fill diesel exhaust fluid (DEF) tanks. This letter constitutes OSHA's interpretation only of the requirements herein, and may not be applicable to any situation not delineated within your original correspondence. Your paraphrased scenario and questions are below, followed by our responses.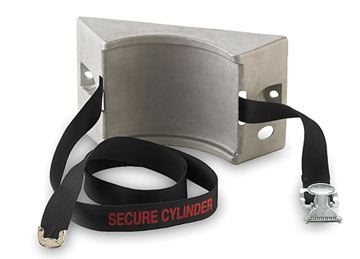 Safety Emporium has a great lineup of
gas cylinder signs, storage racks, clamps and more
.
Scenario: Truck drivers fill DEF tanks on trucks equipped with diesel engines with liquid-based selective catalytic reduction (SCR) technology. These truck drivers have the potential of being exposed to ammonia vapors upon the initial opening of the DEF tank and while DEF fluid is added to the tank and displaces additional vapors. Exposure studies suggest that concentrations could be as high as 100 parts per million (ppm) measured at 30 centimeters (cm) above the fill opening. The same studies suggest that concentrations in the head space above the DEF in the tank could be as high as 1,000 ppm.
Question 1: Are truck drivers who replenish DEF in their vehicles covered by OSHA requirements?
Reply: Yes. The Occupational Safety and Health Act of 1970, 29 U.S.C. § 651 et seq. (OSH Act) applies to private-sector employers. 29 U.S.C. §§ 652(5); 654(a). Section 4(b)(1) of the OSH Act, 29 U.S.C. § 653(b)(1), exempts any working condition for which another federal agency has prescribed or enforced an occupational safety or health standard or regulation. No other federal agency, including the Federal Motor Carrier Safety Administration (FMCSA), prescribes or enforces a standard or regulation on truck driver exposure to DEF fluid or ammonia. Therefore, any relevant OSHA requirements would apply to this working condition.
Question 2: What OSHA requirements apply to this condition?
Reply: OSHA's Hazard Communication standard at 29 CFR 1910.1200 [in 2011 context: HCS 1994 | current regulation: HCS 2012] would apply to potential exposures to DEF and ammonia vapors. This standard requires manufacturers and employers to evaluate the hazardous chemicals, communicate the hazard information, and implement appropriate measures to protect workers. In your scenario, appropriate measures to protect workers when filling DEF tanks may include those that provide respiratory, skin, and eye protection. A chemical is regarded as hazardous if it is listed either in Subpart Z of 29 CFR Part 1910, or the Threshold Limit Values for Chemical Substances and Physical Agents in the Work Environment, American Conference of Governmental Industrial Hygienists (ACGIH (latest edition), or other recognized sources. §1910.1200(d)(3) [in 2011 context: HCS 1994 | current regulation: HCS 2012] . According to Table Z-1 of 29 CFR 1910.1000, a standard in Subpart Z, ammonia has a permissible exposure limit (PEL) of 50 ppm measured as an 8-hour time-weighted average (TWA). ACGIH has a short-term exposure limit (STEL) for ammonia of 35 ppm measured as a 15-minute time weighted average.
Among other requirements, the Hazard Communication standard at § 1910.1200(h)(1) [in 2011 context: HCS 1994 | current regulation: HCS 2012] requires that "Employers shall provide employees with effective information and training on hazardous chemicals in their work area...". This standard at §1910.1200(h)(3)(ii) [in 2011 context: HCS 1994 | current regulation: HCS 2012], also requires that the training must include the "...health hazards of the chemicals in the work area." Thus, in your scenario the truck drivers must be trained about the health hazards of breathing ammonia vapors, such as the potential for eye, nose, and throat irritation. The standard further provides at §1910.1200(h)(3)(iii) [in 2011 context: HCS 1994 | current regulation: HCS 2012] that the training shall include: "The measures employees can take to protect themselves from these hazards, including specific procedures the employer has implemented to protect employees from exposure to hazardous chemicals, such as appropriate work practices, emergency procedures, and personal protective equipment to be used...".
Under this provision, to avoid employee exposure to ammonia vapors the employer must train its truck drivers filling or refilling tanks with DEF to exercise caution when opening the DEF tank and to stay out of areas that contain ammonia vapors, e.g., following normal precautions for re-fueling and following the recommendations provided on the manufacturer's material safety data sheet (MSDS).
Question 3: MSDSs from different vendors for DEF vary widely in their identification of hazards and specification of protective equipment. In these circumstances, must DEF users observe the most protective recommendations?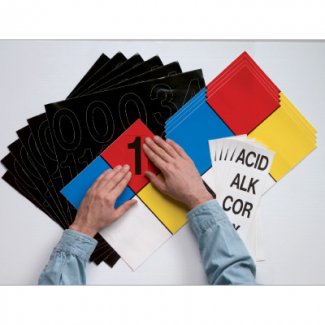 NFPA signs and kits

are available at Safety Emporium.

Reply: The Hazard Communication standard at 29 CFR 1910.1200(g)(8) [in 2011 context: HCS 1994 | current regulation: HCS 2012] requires that employers maintain MSDSs for hazardous chemicals to which their employees are exposed and ensure that they are readily accessible to employees. However, employers are not required to follow the manufacturers'; recommendations on the MSDSs per se. They are required to comply with OSHA standards. The MSDSs provide guidance to employers about hazards and appropriate abatement procedures, controls, and protective equipment, so that they can comply with OSHA requirements. Please see the enclosed OSHA letter of interpretation, dated 12/22/2008, addressed to Mr. Michael Fox, regarding hazards that are not listed on an MSDS.

Thank you for your interest in occupational safety and health. We hope you find this information helpful. OSHA requirements are set by statute, standards, and regulations. Our interpretation letters explain these requirements and how they apply to particular circumstances, but they cannot create additional employer obligations. This letter constitutes OSHA's interpretation of the requirements discussed. Note that our enforcement guidance may be affected by changes to OSHA rules. Also, from time to time we update our guidance in response to new information. To keep apprised of such developments, you can continue to consult OSHA's Web site at www.osha.gov.If you have any further questions, please feel free to contact the Office of Health Enforcement at 202-693-2190.

Sincerely,


Thomas Galassi, Director


Directorate of Enforcement Programs

Attachment
---
Entry last updated: Tuesday, July 12, 2016. This hypermarked and content-enhanced page is copyright 2001-2019 by ILPI, all rights reserved. Unauthorized duplication or posting on other web sites is expressly prohibited. For questions, comments and concerns, please contact us at our MSDS email address.

The official, public domain, OSHA version of this document is available at http://www.osha.gov/pls/oshaweb/owadisp.show_document?p_table=INTERPRETATIONS&p_id=28304&p_text_version=FALSE