Definition
UN Recommendations on the Transport of Dangerous Goods is a set of model regulations developed by the United Nations Economic and Social Council's Committee of Experts on the Transport of Dangerous Goods.
Additional Info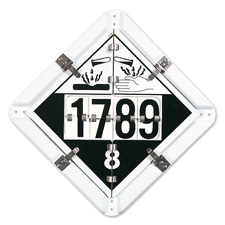 We've got your DOT number at Safety Emporium with DOT placards, NFPA labels and more!
The Model Regulations aim at presenting a basic scheme to allow uniform development of national and international regulations governing the various modes of transport. They are flexible to accommodate any special requirements that might have to be met. These are not regulations, but recommendations only.
The TDG regulations cover the classification and definition of classes, listing of the principal dangerous goods, general packing requirements, testing procedures, marking, labeling or placarding, and transport documents. There are also special requirements for particular classes of goods.
In the United States, these model regulations have been incorporated into government regulations in 49 CFR Parts 100-185. You can find more information about US TDG regulations at the DOT's Pipeline and Hazardous Materials Safety Administration's (PHMSA) Regulations page.
In an aim to standardize labeling, Safety Data Sheets and more, the Committee has also developed the Globally Harmonized System of Classification and Labelling of Chemicals (GHS) which has been implemented across the EU, US, Canada, and many other countries. PHMSA adopted of several elements of the GHS in a rulemaking HM-115F. These elements include the aspects of the GHS that directly affect the transport sector such as changes to the hazard classification criteria for toxic materials and flammable liquids. Changes to regulations concerning environmentally hazardous substances will be made under a separate rulemaking, as the relevant criteria adopted by the GHS Sub-Committee will need to be considered by the US EPA.
SDS Relevance
The GHS Safety Data Sheet format address transportation issues in Section 14. This information will include TDG information such as the Proper Shipping Name (PSN), Product Identification Number (PIN, which is basically the UN/NA number), Technical Name, and/or Primary Hazard Class. The TDG classification, labeling information and any other information relevant to the safe transport of the material (for example, sensitivity to mechanical shock or high temperatures) would be found here.
However, OSHA does not have jurisdiction over transportation, therefore Section 14 of SDS's in the United States is considered non-mandatory (optional). OSHA requires that this section be present on the sheet and labelled Transportation, but it can not mandate that any information be listed in this section. Leaving this section blank is therefore legal in the US. Other countries do require this information on the SDS, so most major companies typically list transportation information on their SDS's as they recognize the importance of having sheets that facilitate international trade.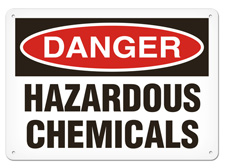 Ensure a safe workplace with safety signs and labels from Safety Emporium!
Further Reading
See also: DOL, DOT, NOS, risk phrases.
Additional definitions from Google and OneLook.
---
Entry last updated: Monday, January 16, 2023. This page is copyright 2000-2023 by ILPI. Unauthorized duplication or posting on other web sites is expressly prohibited. Send suggestions, comments, and new entry desires (include the URL if applicable) to us by email.
Disclaimer: The information contained herein is believed to be true and accurate, however ILPI makes no guarantees concerning the veracity of any statement. Use of any information on this page is at the reader's own risk. ILPI strongly encourages the reader to consult the appropriate local, state and federal agencies concerning the matters discussed herein.